ProSound News - Bowery Ballroom
Refitting New York's Bowery Ballroom
Posted on Mar 15, 2017
By Clive Young

ProSound News Magazine

Installing a new d&b audiotechnik PA at New York's famed Bowery Ballroom were (l-r): Christopher Kulesa, application support, d&b audiotechnik; Kenny Lienhardt, house engineer; Michael Winsch, co-owner, Bowery Ballroom; and Jeff Del Bello of dB Sound Design.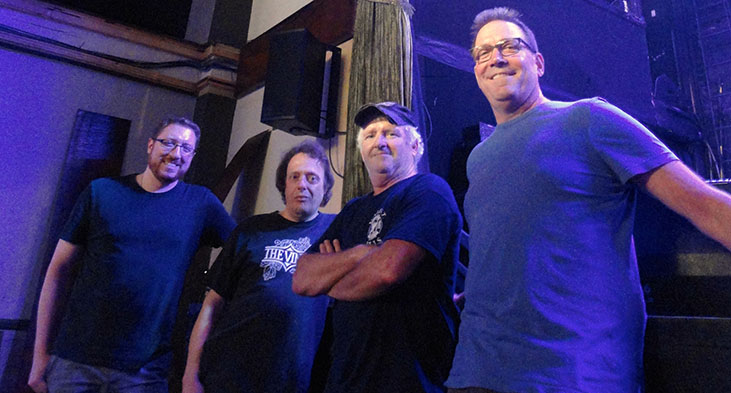 NEW YORK, NY—Almost from the day it opened—June 3, 1998—The Bowery Ballroom in New York City has been a buzz- making venue. A prime showcase venue for record labels showcasing their hip new bands, the 575-capacity venue has also hosted memorable shows by Metallica, R.E.M., Nine Inch Nails, John Cougar Mellencamp, Bruce Springsteen, Red Hot Chili Peppers, Queens of the Stone Age, Crowded House, Courtney Love and many more. Throughout all those concerts, however, there was one constant—the PA, which was finally taken out of commission last summer after 18 years of hard service.

"It was EAW KF650s—two on each side, and the trio in the center was KF695s," recalled Kenny Lienhardt, house engineer since opening night. "All Crown amps. Three double-18s under the stage across the bottom, which worked out great. This room sounded so good with the wood floor and another level underneath—it would just translate under your feet, like everybody had a personal sub; it was great. The neighbors are killin' me, man.
The neighborhood around the venue has changed dramatically since the Ballroom first opened in 1998. Back then, the area was rough and tumble, with no one around to complain if things got a little loud, but these days, there's a new 25-story hotel behind the venue, plus AirBnB apartments, pricy eateries and others who now have to be taken into consideration.
With the changing neighborhood requiring a more prudently applied PA, it was time to update the system and take advantage of improvements in live sound over the last two decades. Some aspects would stay, like the analog Midas Heritage 3000 console at the FOH position, but the PA would be replaced by a modern d&b audiotechnik rig that would be carefully focused on the audience. The new installation would also provide an opportunity to finally implement a true LCR system, something the owners had wanted since first opening.
With aid from d&b audiotechnik in the form of Education Training/Application Support specialist Christopher Kulesa, Winsch, Lienhardt and Jeff Del Bello of dB Sound Design, the new system's designer/installer, took down the old EAW rig in a day and had d&b boxes flown within two days. "Sad taking those speakers down; it was a lot nicer putting these up though," cracked Winsch.
The new LCR system sports V7P over V10P elements left and right, with the 70 degree cabinets on the top and 110 degree cabinets on the bottom, while the center hang sports two V10Ps. Down below, Y10s are used for front fill coverage. Powering all that are three d80 amplifiers.
Providing low end is a horizontal array of V subs; Kulesa explained, "That way, we can not only get pattern control forward and backward from the cardioid behavior of the cabinets, but also, because of the horizontal dispersion, we can control where the low frequency energy goes, so that it focuses on the audience and minimizes energy on the walls. That keeps it from being muddy and prevents the build up of nodes, potentially."
Much of the quick turn-around (two loose days of tuning followed before the venue reopened) came down to preparation. "It was great, with Jeff sending me the Array-Calc file," said Kulesa. "I could look at it and the photos of available rigging points and say, 'These are the things you're going to run into; try doing this, and you'll have to prep some stuff on the ground.'"
Del Bello added, "What Christopher said, it was pretty spot on. We got the right angles, hoisted them up and attached them. In terms of size, the speakers are smaller, but in terms of power—and it's clean power—it's like night and day. A whole different thing. I think the issue will be putting an upper limit on the system."
Bowery Ballroom - Boweryballroom.com 
d&b audiotechnik - dbaudio.com 
dB SoundDesign - dbsounddesign.com
This article first appeared in the March 2017 issue of Pro Sound News as "Bringing The Bowery Ballroom Up to Date.
Copyright © 2017 by NewBay Media, LLC. All Rights Reserved. 28 East 28th Street, 12th floor, New York, NY 10016 T (212) 378-0400 F (212) 378-0470
ProSound News - Bowery Ballroom