ProSound News - Teragram Ballroom
Teragram Ballroom: Built From Experience
Posted on Jun 9, 2015
By Steve Harvey 

ProSound News Magazine
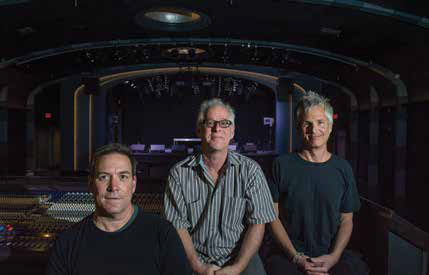 Getting the Teragram Ballroom ready to roll are (l-r) Jeff DelBello, system designer/installer, dB Sound Design; Ken Blecher, regional manager west, d&b audiotechnik; and Robin Danar, production manager, Teragram Ballroom.
LOS ANGELES, CA—Leveraging the recent rebirth of downtown L.A., Michael Swier of the Bowery Presents has opened his first West Coast venue, Teragram Ballroom, in the adjacent Westlake neighborhood. The new music club—named in honor of Swier's late wife, Margaret—features a Midas analog mixing console and racks of outboard gear at front of house, a digital Midas desk at stage right, and LCR main and monitor speakers from d&b audiotechnik.
"It's the bones of this place that were the most important," says Swier (pronounced Sweer), founder and owner of New York's Mercury Lounge, Bowery Ballroom and Music Hall of Williamsburg, among others. Swier and his team have built out the structure to include a 30-foot stage with a proscenium, three large, well-appointed dressing rooms, a bar and café area and offices. Due to open June 1, Teragram's calendar already includes The Delta Spirit, Palma Violets, Nate Ruess and others.
"This was originally built as a cinema in 1913. The current landlord bought it in the late '50s and had a print shop in here," Swier continues. The refit, reportedly costing around $2 million, was very much a collaboration, involving talent largely brought in from back east. Swier's brother, Brian, an architect, has designed several of the company's New York venues and is a partner in Teragram. Jim Falconer, who designed the sprung floor and acoustics at the Mercury Lounge, was also a big part of the design, says Swier.
On the equipment side, Jeff Del- Bello, of New Jersey-based design, installation and sales company dB Sound Design, is involved with the audio, assisted by local sound engineer Sam Coy. Another Bowery Presents alum, Luciano Savedra, lighting director at the organization's Terminal 5 location, provided the design of the Teragrams substantial lighting rig. Production manager for the new Teragram Ballroom. venue is Robin Danar, who began his career as sound engineer at CBGB's during its heyday.
Swier appreciates good sound, he says. "I'm a bit old school, but for a reason—I think it's going to be just that much better sounding in here." Take the Midas analog console at FOH, for example: "Even though they make extremely good digital boards these days, I need that real warmth. There's something about that Midas. The sound quality, in everybody's opinion, is going to be that much better."
The house speakers comprise a d&b rig configured as an LCR point source system rather than arrays, explains DelBello. "Left, center and right are going to be Q7s, up top, and Q10s for the front fill. In the center we're going to have a couple of smaller E8s for front fill, too. We're using five Vi subs for the array below the stage."
The FOH effects racks include compressors, equalizers, gates and reverbs, many in multiples, from the likes of Chandler Ltd., dbx, Empirical Labs, Eventide, Lexicon, Pendulum Audio and Summit Audio. On stage, the monitors are d&b audiotechnik M4 wedges driven by a digital Midas Pro3.
Unusually for a small club—Teragram holds around 600—the room and stage are fully acoustically treated, as much to keep the surrounding residents happy as for its benefits inside. For Swier, great sound is paramount. "It's all about the sound: The bands hearing themselves on stage, and the people watching the show and how it sounds to them."
He continues, "We built the Mercury Lounge for sound; it was the first place in New York that was built specifically for that. I just wanted to make it the best sounding room for its size."
Every subsequent music venue has been a learning experience, he says. "This is the culmination of it all. With every one, you learn a little more about it." Looking around as the construction enters its final phase, he says, "You have these visions of the end result, but when they happen, and it's even better, it's kind of nice."
d&b audiotechnik - dbaudio.com 
Midas - midasconsoles.com 
dB Sound Design - www.dbsounddesign.com 
Copyright © 2017 by NewBay Media, LLC. All Rights Reserved. 28 East 28th Street, 12th floor, New York, NY 10016 T (212) 378-0400 F (212) 378-0470
ProSound News - Teragram Ballroom