New York University has consolidated its media, technology and art departments into a new facility in Brooklyn. The site includes studios, editing suites, rehearsal spaces, offices and Oscilloscope Labs, the private production studio of late Beastie Boys rapper Adam "MCA" Yauch.
Brooklyn, NY—New York University (NYU) has consolidated its media, technology and art departments in the former headquarters of the New York City Transit Authority at the MetroTech Center in Brooklyn. The 12-story building has been built out according to the specific needs of each department, including the Clive Davis Institute of Recorded Music, which has outfitted its portions of two floors with multiple recording studios, editing suites, rehearsal spaces, training labs, practice rooms, offices and other facilities.
"We identified the spaces that FM Design would be responsible for and we did all of the design for those spaces, from demolition to doorknobs," says FM Design president Francis Manzella. That includes four recording studios along an outside wall on the fifth floor of the building that feature double-height live spaces. Floor-to-ceiling windows flood the sixth-floor offices and teaching labs with light through interior windows overlooking the tracking rooms.
"The rooms sound amazing. We're really happy with Fran's work," says associate chair and production faculty head Nick Sansano. Sansano is a producer, engineer and musician whose career started at New York's Greene Street Recording, where he recorded and mixed several seminal Public Enemy albums, among other projects.
"The integration was vast and had to be done in a short amount of time. They realized it was a big enough job that we could collaborate," says Jeff DelBello of design, installation and sales company dB Sound Design, who worked on the project with Matt Marinelli, owner of Coral Sound.
DelBello and Marinelli began designing their part of the project two years ago. "Jeff and I have been friends for years," says Marinelli, "but we'd never worked on a project of this scope together before." The pair split the integration workload 50-50.
Marinelli has had a long career designing and integrating commercial and private studios. "Building for a school is a different beast. You're trying to design something flexible but also intuitive, because you have first-year students who have never seen any of this stuff before," he points out.
"They run these studios 16 hours a day, seven days a week. They see a lot of action, so everybody had input on how, ultimately, this is going to function and last over the years."
Related: Studio Design Shifts with the Times, by Steve Harvey, April 22, 2019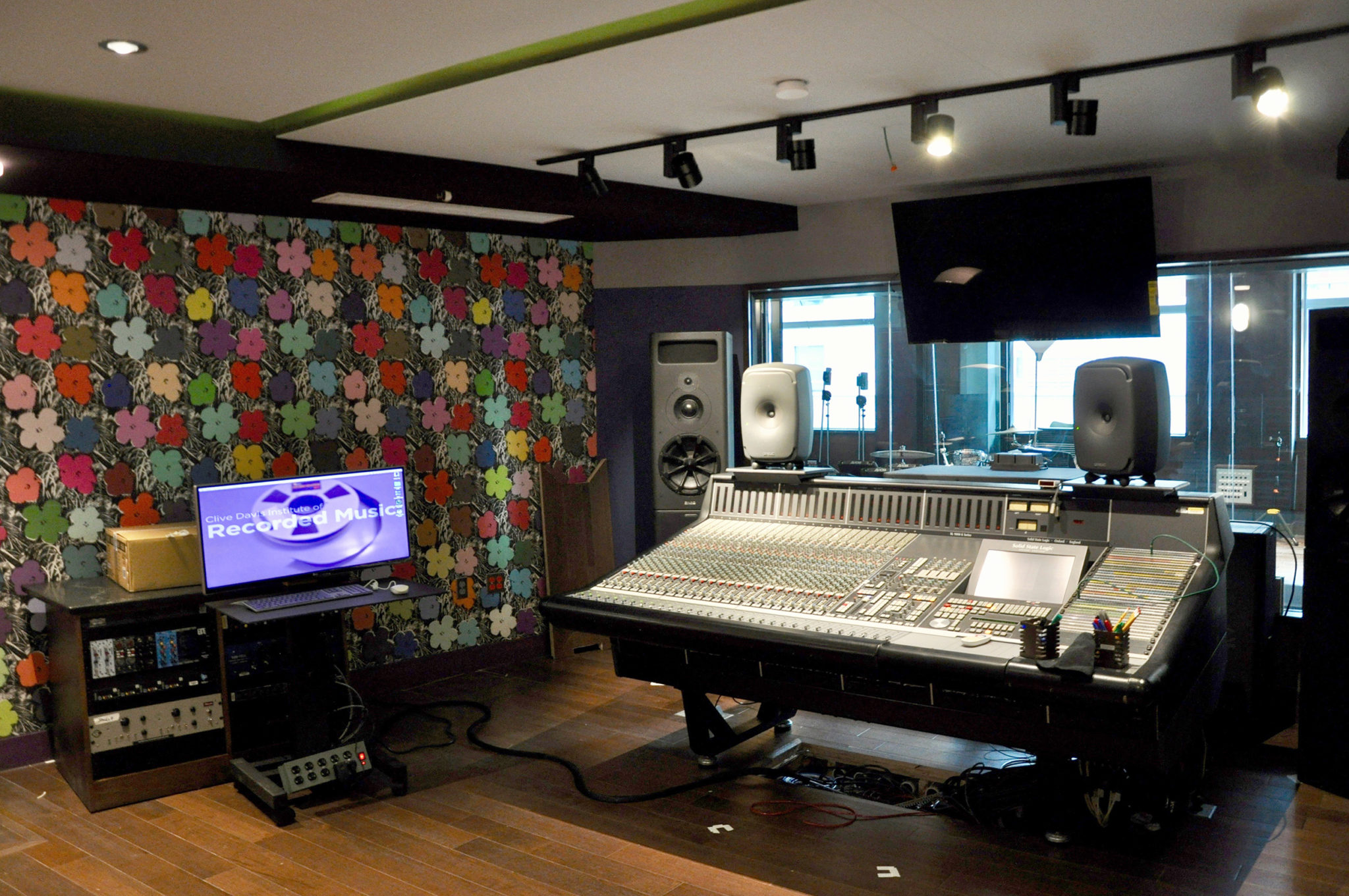 While the studios are numbered, each also has a name that reflects the striking décor and finishes, curated by Sansano. The first, for Dolby Atmos production, is the only control room with a double-height ceiling, to accommodate the overhead speakers; it's known as the Retro Studio. "The walls are a mod '70s pattern designed by Lenny Kravitz, who has a textile and furniture company," says Sansano.
The control room is outfitted with a Rupert Neve Designs 5088 analog desk that was relocated from its former NYU home. "We had to figure out a way to integrate the monitoring," says DelBello. He worked with Jun Yamazaki of Japan's TAC Systems to install the company's MADI-based VMC-102 controller. The signal chain also incorporates an Avid MTRX and a DirectOut Technologies Andiamo MADI-based converter unit. Next door is the critical listening room, which DelBello equipped for Dolby Atmos playback.
Next in line is Oscilloscope Labs, home to the private production studio of the late Adam "MCA" Yauch of the Beastie Boys. Yauch succumbed to cancer in 2012 at the age of 47. His wife, Dechen Wangdu, donated the studio in its entirety to NYU for as long as they need it.
Marinelli was involved with the original studio at Oscilloscope Labs on Canal Street in Manhattan from the beginning, overseeing its evolution from a Pro Tools system through a vintage Neve 8058 analog mixing desk to the 8078 console that now resides at the MetroTech location. "We had the opportunity to rebuild the studio at NYU and maintain some of the aesthetic ideas from the original facility," from the color scheme through the studio furniture to the collection of production gear and instruments and shelves of records and books, says Marinelli. "Fran did a good job of implementing the feel of the original room without trying to do a facsimile."
The Class of 2019: Designers Showcase Their Hottest Studios of the Year, Mix magazine, June 3, 2019
Studio 3, better known as the Nature Room for its images of forests and sylvan color scheme, houses a new API AXS Legacy analog mixing console. The room was integrated by Marinelli.
The fourth studio, the Warhol Room, is named for the licensed Andy Warhol prints and images covering the walls. It features an analog SSL 9000K console moved over from NYU's Manhattan facility.
The two Dolby Atmos rooms and the Warhol Room are all outfitted with PMC monitors. Oscilloscope was upgraded during the relocation to the midfield ATCs that had been on Yauch's wish list, and the Nature Room features JBL's mastering-grade M2 monitors. Otherwise, says Sansano, "We put the newest generation Genelecs everywhere, in all our playback spaces, edit suites, classrooms, labs and offices."
He adds, "We also built a massive shop, with five benches and all the gear, including instruments." There are additionally two overdub rooms on the fifth floor, integrated by Marinelli, featuring API Box consoles and a booth for vocals.
Marinelli and DelBello worked together on two hybrid rooms. These floating, sound-isolated, multifunction spaces complete with backline and theatrical lighting can be used as teaching, performance or rehearsal rooms. "I put a small d&b audiotechnik P.A. system in each one," reports DelBello.
"We also have a DJ practice room with an assortment of equipment, and we have three piano practice rooms," in addition to five edit suites with in-the-box workflows, says Sansano. "And we built a couple of rooms for our music instruction faculty that are offices but can serve as classrooms, with Genelecs, a small mixer, microphones and videoconferencing."
Indeed, several of the rooms are equipped for multimedia presentations and feature the latest video technology in addition to cutting-edge audio. "On the sixth floor, we built a large multimedia room for presentations and guest lectures, with a Barco video wall and PMC Wafer speakers in the walls and ceiling for a multimedia experience." Also on the sixth floor are a couple of DAW labs with 12 stations in each for teaching Pro Tools, Logic, Ableton and Sibelius, as well as streaming technologies and streaming business.
"I don't know how many recording and rehearsal facilities like this are being built on a commercial scale. Maybe none," says Sansano. "This was an opportunity to do it right, so this is a representation of the best that it can be."
Clive Davis Institute of Recorded Music • http://tisch.nyu.edu/clive-davis-institute